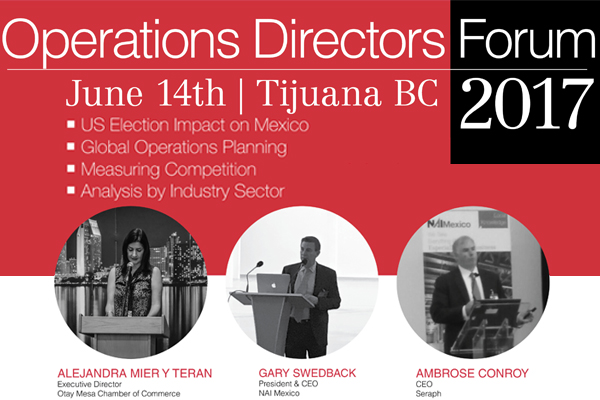 NAI Mexico is pleased to invite you to the Tijuana Operations Directors Forum, Wednesday, June 14th.
Global industrial operations executives in Northern Mexico are meeting for lunch at Club de Empresarios de Baja California , Tijuana, from 1:00 – 3:00 p.m.
​​
The event will feature 3 industry experts— providing thought leadership from ​the Otay Mesa Chamber of Commerce (Cali-Baja unique global location), Seraph (management consulting), and NAI (global business advisory) discussing the US political election, Mexico operations competitiveness, potential tariff impacts, and how executives can remain competitive during 2017's disrupted market uncertainty. The luncheon event is complementary to NAI invited clients .
The main objective is to:
Share operations impacts in Mexico due to the US election,
Tools available to planning managers to understand their competitive position in Mexico,
Tools to help operations remain competitive with their internal corporate operations in the US— and world markets.
The Tijuana Operations Directors Forum  will present the impact of US political elections, latest trends in Mexico, and how directors can support their 2017 planning processes. The agenda will include:
Welcome and Introduction to Visitors

Host Welcome:   NAI Mexico, Gary Swedback, CEO

Introduction to the Presenters

Current Trade Developments the Cali-Baja Region

Presented by:   Otay Mesa Chamber of Commerce Alejandra Mier y Teran Executive Director www.otaymesa.org

Cali-Baja Region Overview
Regional Infrastructure Projects Impacting Trade
Cali-Baja Perceptions Regarding Impact from US Political Election: What to Expect

Impact of US Elections on Foreign Industrial Operations in Mexico: Planning 2017

Presented by:   Seraph   Ambrose Conroy: Founder and Managing Partner   www.seraph.com

Proposed Changes by the Incoming US Leadership
Likely Impact on Foreign Firms and Exporters in Mexico
Preparation Suggestions by Industry Sector

Tools for Planning in Mexico and Other Markets

Presented by:   NAI Mexico   Gary Swedback: CEO   www.naimexico.com

US Elections: Feedback from Our Global Clients
Planning Mexico vs. Other Markets
Multi-Market Comparison Analyses: Total Occupancy Cost
New Tools Available for Operations Planning: 2017 :  How to Stay Ahead

What Are Most Important Issues to Maintain Competitiveness for Management Teams in Northern Mexico?

Roundtable and Interactive Discussion
Largest Challenges Perceived for 2017
Location: 
Club de Empresarios de Baja California, Manuel Marquez de Leon 1301 Torre Diamante, Piso 26 New City Zona Urbana Rio 22010, Tijuana, B.C., Mexico.
Best Regards,
https://naimexico.com/wp-content/uploads/2017/06/Operations-Directos-Forum-TJ-1.jpg
400
600
naimexicoadmin
http://naimexico.com/wp-content/uploads/2016/07/logonai.png
naimexicoadmin
2017-06-12 13:47:57
2018-07-11 09:47:01
Tijuana Operations Directors Forum - June 14th, 2017