Diversifying the sourcing portfolio from China (either nearshoring or offshoring) will help address challenges, whether in supply chain, logistics or availability of raw materials.
China's supremacy as the global production hub for several industries such as medical devices, electronics, automotive and textile was unchallenged until sometime back. The key factors were easy availability of raw materials, business-friendly laws, technological innovations and access to skilled and cheap labor. However, the scenario changed in 2019 due to increasing cost of labor and the U.S.-China trade war, which tarnished China's image as a favorable center of production. The Coronavirus disease (COVID-19) pandemic aggravated the situation.
Supply chain disruptions, such as shortage of raw materials due to plant shutdowns in China, increased the cost of manufacturing by pushing labor and shipping costs high and increasing lead times. Plus, amid the growing risk of intellectual property (IP) theft and declining tax incentives, companies either consolidated operations in their home country, expanded existing operations, explored nearshoring activities in Mexico or offshored operations to other Asian countries such as India and Vietnam. Many leading organizations in the mobile and electronics, automotive and medical devices industries have either started implementing their plans to partially shift supply chain to Mexico or are exploring this option followed by India and Vietnam.
Leading automotive, electronics companies shifting supply chain functions or expanding operations in Mexico, followed by India and Vietnam
Shift in supply chain. The shift of supply chain is already underway, as some leading electronics players are exploring Mexico as a production facility.
Following Mexico, India introduced the Production-Incentive Scheme for mobile phone manufacturing and electronics components, including assembly, testing, etc. This factor contributed to attracting some companies to set up manufacturing plants in India.
Vietnam is yet another preferred location for the manufacture of electronics parts.
Expansion of existing facilities. In addition to the shift in supply chain, leading automotive companies are planning to move production to Mexico. End-users, for instance, have already shifted or expanded their manufacturing operations to Mexico.
Electronics companies in Mexico too are keen on increasing their production lines for servers, lighting systems and cognitive services, respectively.
Geographic proximity, low-cost labor, lower logistics expenses and availability of raw materials are the key factors drawing large organizations to Mexico. The country also is taking initiatives to attract investors and increase foreign-direct investment (FDI) in different industries.
Factors supporting investments in Mexico vis-à-vis India and Vietnam
Mexico's GDP stands at $1,076 billion, of which, $318 billion comes from the industrial sector, followed by the service and agriculture sectors. However, in India, the service sector is the major contributor, accounting for $1,413 billion, followed by the industrial sector at $618 billion. In Vietnam, the service sector is the major contributor to GDP.
The main manufacturing industries in Mexico are mechanical (stamping, smelting, forging, machining, plastic injection, die casting), automotive and electronics that have 77,071, 2,500 and 2,300 companies, respectively; together, they employ more than 2 million people.
The industrial sector in India, with its major sub-sectors such as mining, quarrying, manufacturing, electricity, gas and water supply, accounts for around 26% of the country's GDP. It employs over 15-20% of the total workforce in India, and mainly caters to the iron and steel, cotton and textile, mechanical (smelting, forging, stamping, machining, die casting plastic injection), automotive and electronics industries.
On the other hand, in Vietnam, state-owned industries such as furniture, plastics, textiles and paper constitute the foundation of the economy. Even sectors like tourism and telecommunications contribute significantly to the economy. In 2020, these industries accounted for 34.5% of the GDP and employed 28% of the total workforce.
Overall, Mexico has a strong supply base that can ensure "just-in-time" delivery to consumers and distributors and provides end-users access to the South American market.
Trade (imports and exports). The United States is the most preferred export destination for Mexico, accounting for approximately 79% of total exports, followed by Canada, China, and others. Export of electronics and automotive components from Mexico to the United States increased over 2019-20, with electronic equipment exports rising 5-10% in this period. Also, in the last three years, by value (in metric tons), the import of automotive products to the United States from Mexico has increased by more than one-third.
Of the total exports from India to the United States, products such as medical appliances, leather goods and textiles account for more than 17%. The United States is also the major export destination for Vietnam.
Note: Trade data includes exports and imports of all products from Mexico, India, and Vietnam for the year 2019 and 2020.
Growth in FDI accompanied by strong government initiatives. In 2020, India was on the list of the Top 10 recipients of FDI, clocking $64 billion, up 27% from that the previous year. Major investment was in the manufacturing industry (18%), followed by service and computer software/hardware. Furthermore, the Indian government has now allowed 100% FDI in contract manufacturing in its bid to boost investments in manufacturing. In Vietnam, FDI decreased by 25% year-over-year to $28.5 billion in 2020; half of the investments were in processing and manufacturing.
FDI inflows to Mexico totaled nearly $30 billion in 2020. The top investing countries were the United States (39%), Canada (15%), and Spain (14%), followed by Japan, Germany, etc. Of the total investments in Mexico, 41% is directed toward the manufacturing sector, concentrated in industries such as aerospace, automotive and electronics. These established industries offer a strong supply chain, existing infrastructure and skilled labor.
Overall, Mexico is a preferred choice for companies looking to maintain competitive manufacturing costs while having regional distribution strategies to control inflation.
Availability of port infrastructure. On the Quality of Ports Infrastructure Index, Mexico ranks 65th, India 51st and Vietnam 85th among 139 countries.
The Indian government has permitted up to 100% FDI on port-related projects and even has a 10-year tax holiday for construction and maintenance of port projects. The government also spent $1.85 billion on infrastructure development at major ports in the country. Due to its geographical location, Vietnam offers easy connectivity with other Southeast Asian countries; this makes it an appropriate hub for manufacturing. Seven major ports dot its 1,900-km coastline, and currently about 400-500 million tons of cargo moves around this line annually.
Mexico has more than 100 major ports on a coastline of 9,330 km, with an annual capacity of nearly 300 million tons. In the last three years, road shipping volume from Mexico to the United States increased by 32%, mostly via Port Laredo in Texas. Inbound ocean freight volumes also increased from Mexico, mainly to Port Newark in New Jersey and Port Everglades in Florida.
Shipping rate from Mexico to the United States is the lowest as compared to from China, India, and Vietnam, which makes Mexico a favorable destination.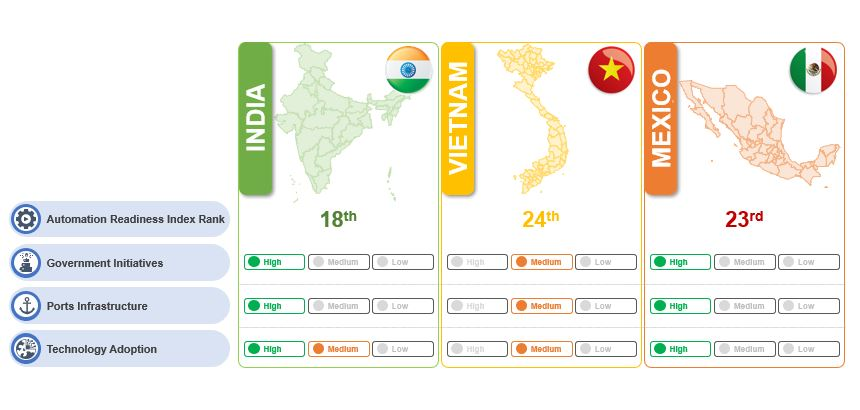 Aranca
Technology adoption and automation. On the Automation Readiness Index, Mexico ranks 23rd, Vietnam 24th and India 18th. Despite, gross expenditure on R&D (as a % of GDP) is at same levels for all three countries; Mexican industry is planning to accelerate digitalization and automating processes typical of Industry 4.0, which would raise the country's GDP by 3% points.
The Indian government is finalizing plans to boost digital manufacturing in the country. Many organizations have already taken the initiative and invested in Industry 4.0 Center of Excellence. The Government of India is planning to develop land spanning 461,589 hectares (two times the size of Luxembourg) to invite businesses looking for alternative locations to China. Government-led initiatives such as Rapid Transformation Hub (SAMARTH) and Smart Advanced Manufacturing – Udyog Bharat 4.0 are also aimed at increasing the pace of digitalization.
Vietnam, too, has initiated the adoption of Industry 4.0; however, investments need to come from other countries such as Japan. A few companies, for instance, have undertaken automation-related initiatives in Vietnam, but other domestic companies are still lagging.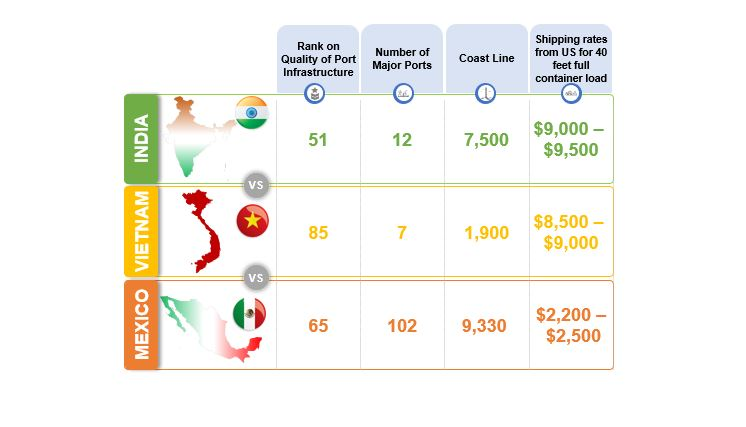 Aranca
Availability of raw materials. In Vietnam, raw materials are not always available easily and manufacturers in several industries rely on imports to produce goods. In fact, 75-80% of electronics components, 85-90% of pharmaceutical raw materials and 70-80% of textile and plastics raw materials come from China.
Comparatively, India has strong raw material production capacity. The country is the largest manufacturer of cotton and second-largest manufacturer of steel globally. Therefore, availability of raw materials is easy for various industries.
In Mexico, on the other hand, several raw materials produced locally are used in its domestic manufacturing sector; these include metals, minerals, resins, timber, gems, etc. Mexico is among the Top 10 producers of metals such as copper, silver, gold, lead and zinc worldwide. It has a large mining sector. Countries such as the United States, Canada, and several European nations import metals, minerals, ore and gemstones from Mexico. The country has abundant forests with different types of wood and naturally occurring fibers and resins. Companies signed up with the Maquiladora IMMEX program may enjoy the benefits of importing raw materials to Mexican manufacturers and consider sourcing Mexican material supply chains.
Companies believe that diversifying the sourcing portfolio from China (either nearshoring or offshoring) will help address challenges, whether in supply chain, logistics or availability of raw materials. Mexico, India, and Vietnam are undertaking initiatives and implementing policies that will facilitate their emergence as the new hub for manufacturing. From increasing adoption of technology to relaxation of FDI norms and implementation of reforms in land acquisition, the three are locked in a race to win the mantle. However, based on the factors mentioned above, and among the other up-and-coming sourcing hubs, Mexico is steadily catching up with the alternative sourcing giants in the world.
ORIGINAL SOURCE https://www.sdcexec.com/sourcing-procurement/sourcing-solutions/article/21747630/aranca-china-plus-one-an-emerging-supply-chain-diversification-strategy

https://naimexico.com/wp-content/uploads/2021/10/china.png
537
796
naimexicoadmin
http://naimexico.com/wp-content/uploads/2016/07/logonai.png
naimexicoadmin
2021-10-06 10:04:10
2021-10-07 11:11:25
China Plus One – An Emerging Supply Chain Diversification Strategy