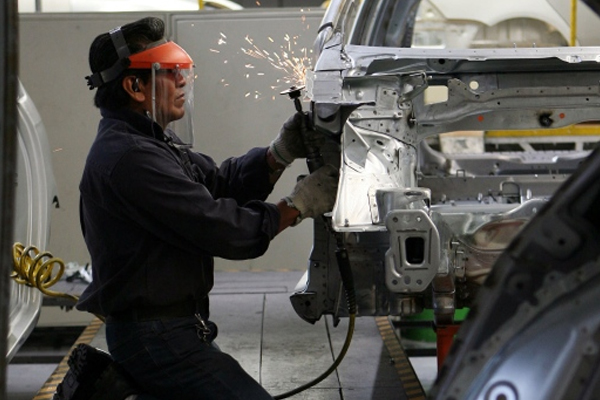 By Pete Evans
After six consecutive months of record output, Mexico now makes more than one out of every five cars built in North America, new numbers from automotive organization Ward's shows.
Mexico built 1,926,930 cars in the first half of 2017, almost 16 per cent more than the country cranked out in the first six months of last year. That compares with 1,208,911 Canadian-built vehicles over the same period, a figure which dipped by 2.4 per cent from last year's level.
The boom means Mexico now makes more cars than the U.S. does, as America built 1,697,551 cars in the first half of 2017. Compared to last year, that figure is down by 17 per cent — about what Mexico's output has expanded by.
Mexico may now be making more cars than America does, but when larger vehicles such as trucks, vans and SUVs are included, America still leads the region in vehicle production, with 5,812,310 through June — although that figure is down almost five per cent in the past year.
Profit margins on those vehicles tend to be higher, which is why North American automakers build them closer to home, while outsourcing smaller vehicles that aren't selling as well as they used to.
Last month, Ford announced plans to produce all of its Focuses at a new plant in China, the first time the company will build cars in that country that are destined for sale in North America. Previously, the plan was to build the Focus in Mexico, before changing that plan after pressure from the White House.
And General Motors in January announced it would be cutting 625 jobs at one of its Ontario facilities and moving production to Mexico instead.
U.S. President Donald Trump has vowed to energize American manufacturing in his presidency, and the subject of auto jobs is likely to come up in NAFTA discussions between the three nations slated to start later this summer.
While Trump has rallied support for the Made In America movement, the reality of the North American automotive supply chain makes that basically impossible to achieve, since companies build and assemble hundreds of different components in various countries along the way toward building a single vehicle.
Roughly 40 per cent of the components in a vehicle considered to be made in Mexico in fact come from the U.S., the non-partisan think tank the Center for Automotive Research (CAR) said in a report earlier this year. In Canada, the ratio is about 25 per cent.
A hard-line approach requiring that all cars sold in America be fully made and assembled in America would cost the U.S. about 30,000 jobs, and add thousands of dollars to the price of a vehicle, CAR said.
Source: http://www.cbc.ca/news/business/automotive-manufacturing-jobs-1.4220397
https://naimexico.com/wp-content/uploads/2017/07/Mexico-built-16-more-cars-in-first-half-of-2017-bucking-slowdown-in-U.S.-and-Canada.jpg
400
600
naimexicoadmin
http://naimexico.com/wp-content/uploads/2016/07/logonai.png
naimexicoadmin
2017-07-26 11:18:15
2018-07-11 09:47:00
Mexico built 16% more cars in first half of 2017, bucking slowdown in U.S. and Canada